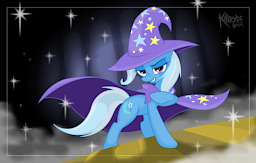 Source
This story is a sequel to Stallions of Harmony - Longest Night
---
Come one, come all, to see a tale of awe and wonder!
Of thrill and suspense!
Of romance and mystique!
The inspirational story that is about to unfold is that of visitation upon a humble haven by the most amazing, the most talented unicorn alive! Step right up and witness a tale of the one and only, the Great, and Powerful Trrrrrixie!
*Pyrotechnics!*
Set in the Stallions-Verse. 'Other' tag stands for Soarin and Doctor.
Chapters (9)