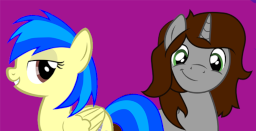 Silvia is stuck in a job she hates, lacking the motivation to find a new one.
Cubic has an unhealthy obession with cubes of all shapes and sizes.
Both of them have been set up on a blind date with each other.
AUTHOR'S NOTES
Commissioned by Silvarrn, one of the admins over at the UK of Equestria forums.
ACTUAL WORD COUNT: 2,594
Chapters (1)