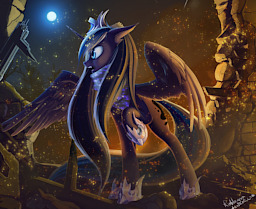 Source
Murder has come to Canterlot.
When a body is discovered, mutilated beyond recognition, Princess Luna is tasked with finding the culprit and bringing them to justice.
As the Alicorn of Darkness, it is her duty to watch over the night, and protect the ponies of Equestria from that which lurks in shadow. But she won't be alone in this endeavor; a stallion from the Royal Investigative Service and the prince of chaos himself have been sent to aide her in this matter.
Together this strange trio will find that there is much more at play here than mere murder; a storm is gathering in the shadows of Canterlot, and even the powers of a god may not be enough overcome it.
---
Prereading credits go to the eminent Carabas.
Chapters (10)