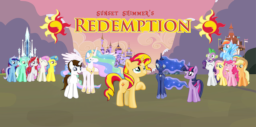 Source
Sunset Shimmer, has finally decided to return to Equestria to right all the wrongs that she has done on both sides of the crystal mirror. She is even ready to face whatever punishment Celestia sees fit, no matter how great it is.
Imagine her surprise when she is forgiven AND given another chance to be Celestia's student again.
As she makes amends and hoofs out apologies, she will also make some friends with both old and new faces, including Celestia's adopted son, Lockon Astros.
And little does she realize that, fate has plans for her once again. But this time, she will earn more than just the redemption that she seeks.
(Credit for the cover art goes to SunsetMajka626 who has both a DeviantArt and a Derpibooru account.)
Chapters (12)