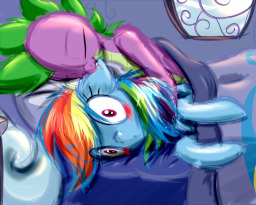 Source
When Rainbow Dash wakes up to find herself sharing a bed with somepony—or rather, somedragon—she knows she's going to have an eventful day. Determined to put the whole ordeal behind her, she agrees with Spike to forget the evening had ever happened.
However, things have a way of coming back to haunt you, and for Rainbow Dash, it may not be what she asked for at all.
---
Group collaboration between the lovely members of SpikeDash:
Yours truly,
Vexy,
FierceRainbow,
Rainbow87dash,
Garbo.
Chapters (4)