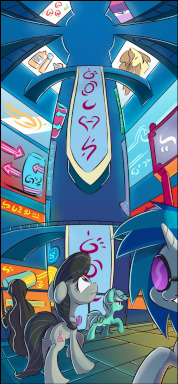 Lovely new cover art courtesy of Dilarus.
Octavia Melody is in a bit of a spot. Life on the Manehattan Space Station isn't easy for most ponies to begin with, but when your BitCard balance is zeroed out and you're living meal to meal? It starts to feel like things couldn't get much worse.
The problem is that that sort of thinking only invites more trouble.
When Octavia suddenly finds herself stuck in the middle of a plot that could destroy the whole of the Grand Equestrian Empire, the source of her next meal is going to be the least of her concerns. Now she must find the Elements of Harmony, unravel the secrets of the Empire, save the universe, and, just maybe, find a way to make some friends.
Quick thanks to my group at the Artist/Writer Collab panel at BABSCon. Without us bouncing ideas around, this story wouldn't be happening!
Also want to thank my stable of pre-readers/editors. So yeah, thanks to The P-Man, Alun Aleriksson, Jack of Most Trades, and Sir Alex. Y'all are wonderful.
Featured on Equestria Daily 12/10/2014! Couldn't have done it without all of my lovely pre-readers, and, of course, my lovely readers.
Chapters (17)