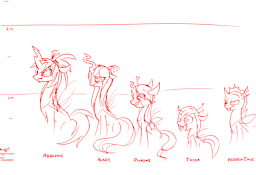 This story is a sequel to The Three Sisters: Extended Family
---
A story of The Three Sisters Universe
Families are like fudge — mostly sweet with a few nuts. ~ Unknown Author
Chrysalis' daughters are serving their community service in Ponyville. Nothing can go wrong. Right?
Unless they all have their own agenda, and surprises keep piling up, complicating matters further. But anything to broker peace between the Changeling Nation and Equestria... right?
Art by the incomparable Conicer!
Now with a TV Tropes page! Warning: Will Contain spoilers.
Chapters (18)