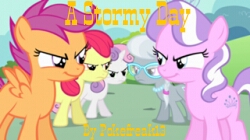 This story is a sequel to The Rainy Day
---
While the CMC play in Apple Bloom's barn, a storm forms outside. They are stuck in the barn, and to make matters worst two of the biggest bullies get trapped in the same barn with them.
Can the CMC come to terms with Silver Spoon and Diamond Tiara? Will Captain Scootaloo and Apple Bloom ever find Candy Island?
Special thanks to Dustin Lange for helping me to improve this story, check him out!
Cover art by Jacob Bading. Another guy you should check out!
Chapters (1)