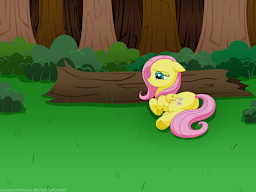 Source
Fluttershy tells the story of how a certain Rainbow-colored mare has helped her through all her difficulties in her life and how one fateful choice ended it all.
----------
Author's Notes:
For those wondering where Gilda is, allow me to explain why I didn't put her in. When Fluttershy first meets Gilda in Griffon the Brush Off, she didn't seem to recognize Gilda and vice versa. As such, the Junior Speedsters were always a separate after-school activity in my head so I thought that Fluttershy would have no relation to Gilda.
I need to widen my vocabulary by a lot if my writing is going to get any better. I also need to start writing consistently.
Cover image and story inspiration provided by the very talented Megacreomon: http://megacreomon.deviantart.com/
Don't forget to Read and Rate! Thanks for reading!
-Deathscar
----------
Edit 1: Spelling and Grammer check. Added some important lines to clarify as to why Rainbow would make the choice she did. Re-read is recommended only for the second last scene. Added minor details here and there.
Edit 2: Corrected a lot of things, such as sentence structure and grammer, after a proof reading my JohnPerry (seriously he has helped me drastically) and added a new major scene to provide even further clarification!
Chapters (1)