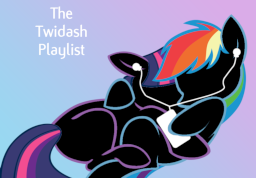 Source
Rainbow Dash has developed a crush on Twilight. Now she just needs to find a way to express herself to her heart's desire, while fighting against her own past, meddling friends, and a pony who only recently learned what friendship was.
So it might be a bit harder than she thought.
---
Each chapter of this story is based off a song. This is not a "song fic", I'm basically just using the songs as a prompt for the story.
Y'know, kinda like that Timaeus guy did, but not as good. Honestly, you should probably just click that link right up there and read his story. Now. READ IT!
Cover art modified from a vector by twidash-hiishirikuu.
Chapters (3)