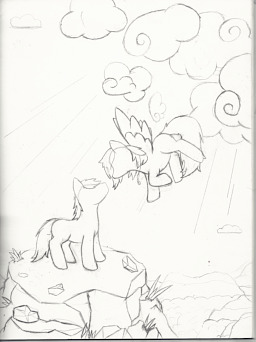 (before MLP s2 ep.13)
For hundreds of years, Earth ponies, Pegasi and unicorns have lived together in the land of Equestria. They lived in harmony together, whether it was work or sharing something that they had, they would gladly help each other. Some may think these ponies live a great life, living side by side, almost inseparable. But... in a way, the races where separated. There was no law saying so, but it was just how thing played out. No one said you couldn't, because they never had too. This invisible wall that secretly separates the races was, in fact, the races themselves. It was Natural law that split up the three races. Earth Ponies only married other Earth ponies. Pegasus only married other Pegasus. Unicorns only married other Unicorns. Other creatures may have opposing ideas on this, but this was a natural law. It was normal to only love one of the same races. To only embrace one of the same races. this is how things are... Heck, you didn't think of it as anything, because, well, you never needed too. You, like every earth pony like yourself, believed that you would fall for another earth pony. The same goes to Pegasus and Unicorns, only the same race. But, one rainy day, you bump into your, soon to be, soul mate. Problem? She is a Pegasus and you're not. how can you cope finding your true love, but could never show those true feelings? and if she feels the same, how will others act? and what about that Orange Mare that secretly adorse you? what are you going to do? you don't know, you may never know. You may not know what just happened to you or what was yet to come. You don't know where you were or how you got in this predicament.
But one things for sure, You have found something very special. You found a sacred place, where a Pegasus met an Earth pony; Where the Earth meets the Sky.
(note: please keep an open mind when reading the story, I know there is pegasus on unicorn and Earth ponies on alicorns, but i'm trying to make a story! keep you shippings to yourself. ontop of that, I will most likely NOT have lemons. Especially combustible lemons. also i FAIL at second person, but i was trying something new, and i didn't have a real story for the main character. until now, of course.)
*not done with cover*
Chapters (6)