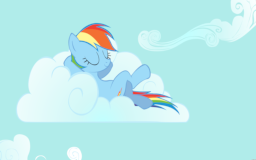 Josh, Bill and Blue are hard-working Earth Ponies that haul freight around Ponyville. Sometimes, Bill and Blue envy the freedom and power of the Pegasus and Unicorn Ponies. Josh, older, wiser, and a bit of storyteller, tries to comfort his teammates with the "secret truth" about the other types of ponies. And Bill and Blue... well, there's a short distance between between being open-minded and empty-headed.
These were my first two MLP:FIM fan fictions. The first, "The Truth About Pegasus Ponies," is a little rough, but it was one of those stories that just appeared in my head, whole and entire, and demanded to be written.
The second, "The Shadow Over Ponyville," is a bit more polished. Despite the title, it's not really a Lovecraft pastiche, although HPL obviously influenced my description of Blue's reaction to the "blasphemous truth" about Unicorns. ("Kelpies," by the way, are a real thing, or at least real in terms of folklore. Sometimes, this stuff just writes itself.)
When I wrote these stories (during the break between Seasons One and Two), I thought I had cleverly immunized myself against changes to the canon. Josh is, of course, only telling tall tales, so any changes to the canon couldn't affect his stories. Baby Cakes, however, makes these stories a bit implausible. Still, I'm fond of them anyway.
Josh's full name is Joshington Traveller Pie. In my personal canon, he's Pinkie Pie's uncle, the "bad" one that ran away from the rock farm to join the circus. Oddly, I have yet to write a story that includes both Pinkie and Josh. When I write about him, I imagine he sounds like John Goodman.
Edit: If you liked this story, you might also enjoy my story, "The Boneyard," which directly follows the events in "The Shadow Over Ponyville."
Chapters (2)