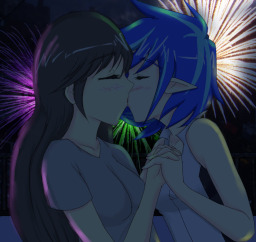 When it comes to summer, most of us think about beaches, vacationing, travel, BBQ's, pool parties, etc. But for two girls, all they can think about is each other.
---
I also want to give a shout-out and very special thanks to my proofreader Wolfie 03. You've been a really great help to me for this story and deserve a lot of credit for helping me make it what it is. You're a really awesome person, and words can't even begin to describe how glad I am that you helped me out.
---
Warning: This story contains scenes of mild sexual content, some strong course language, and mild violence.
Chapters (7)