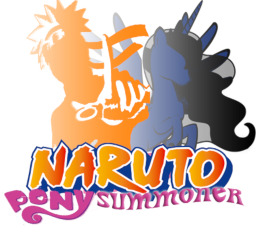 Nightmare Moon was indeed banished. Where to was another matter entirely. Through an unfortunate series of events poor wittle Woona ends up sealed away inside a young boy living on an entirely different rock. Then one fateful day, on the verge of death, the boy gets to meet his inner self. He certainly wasn't expecting a little blue horse intent on snuggling him the rest of the way to death.
With the ninja exams quickly approaching, the boy needs help. And the ever-helpful Woona knows exactly who to ask. Ponies of course, cause ponies are always nice and helpful! That's what big sister says! Now armed with the power of the pony summoning contract, the boy attempts to summon a pony able to teach him something, anything, other than the absolutely deadly 'death-by-snuggles' technique.
Naruto crossover. Yet another one of my stories that will explode violently if taken seriously. Handle without care. Leave your sanity at the door. You have been warned.
Featured 4 - 6 June 2014. I'm not even entirely sure how, but many many thanks for all the interest and support that made that possible! You guys have double-double-doubled the fun!
Chapters (6)