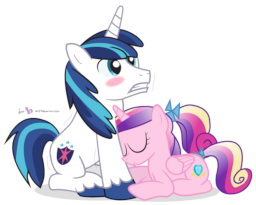 12/25/2014 Front Page!! YOU ALL ROCKTHIS WEBSITE!!!
Shining Armor and Princess Cadance love each other very much, this much is obvious to everypony, but what nopony knows is Shining Armor wasn't always on board with the idea of dating a princess. In fact, he was dead set against it because he thought it would end up ruining both of their reputations. However, the pink alicorn is more than willing to fight for their love and ends up making a bet with him unlike any before it.
Now Princess Cadance has three weeks to get Shining Armor to admit he likes her back, or run the risk of losing him forever.
New cover art is thanks to http://dm29.deviantart.com/ who is an amazing sport when it comes to the pics.
Chapters (12)