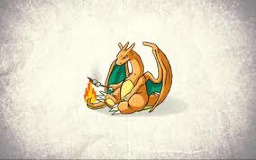 Ian is a trainer. Or was a trainer. Now he is a Chairzard in a world if multi-colored Ponitas and creatures called "Griffins". But that's not enough, because almost all of the member of his team, his family, are missing. With the help of his Dragonite and a griffon called "Gilda," he will find his family and learn how to deal with his new body and this new world.
Side story of A New World, a New Way
by zeusdemigod131 (with permission, of course)
Art belongs to who ever it belongs to.
Chapters (1)