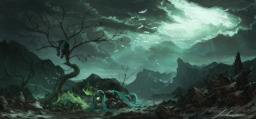 Source
Listen to the cries of my people, from a far distant land:
"The Princess is still in Canterlot. But what of our Queen? Why is she not beside us? We have provoked the wrath of sun and moon, and the anger of the heart, but we fought only out of need. The harvest is past, the feeding is ended. And we are not yet saved."
My people are broken, so I am broken. I mourn, and horror has taken hold of me.
Chapters (1)