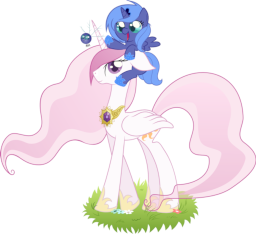 Princess Celestia and Princess Luna just want to have a day off. So they sneak out of the palace for the simple pleasure of just having a day of fun. However, somepony is out to catch them slacking from their responsibilities. Will Celestia and Luna's day of fun be cut short?
Image belongs to NaZoTh
Also, a big huge thank you goes to Troubleshooter (Formerly Fedorasarecool or something like that). For helping me with the proofreading and editing. He had some great ideas that I think put the story in a very good direction. Show him thanks by clicking on the link and following him.
Chapters (1)