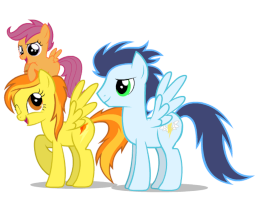 A story to answer some of the unanswered questions about Scootaloo's past including, but not limited to:
-Who are her parents?
-Why can't she fly?
-Why is she so obsessed with Rainbow Dash?
I saw the picture that I used for the story's picture and immediately fell in love with this idea and ran with it to create my head canon and eventually this story.
I'm more then open to constructive criticism, especially regarding how to end stories since I can never end them well it seems
Chapters (2)