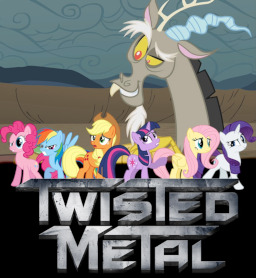 "I am Discord, and I thank you for playing Twisted Metal."
Over one thousand years ago, Princess Celestia and Princess Luna defeated Discord in his own malefic game where ponies had to hurt and even kill each other in order to get a wish fulfilled. Discord is back, and so is his evil game.
Now it's up to the wielders of the Elements of Harmony to stop him one more time. But in a tournament where the prize is only limited by your imagination, the original reason to be there can easily be left aside!
Chapters (26)