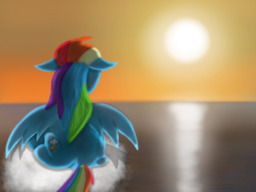 Rainbow Dash has it all. She's popular, respected by those around her, and now that she's been accepted into the Wonderbolts Reserves, her dream of becoming a Wonderbolt is that much closer to being realized.
However, on a day she spends with her surrogate little sister, Scootaloo, Rainbow Dash receives news that will change her life forever. Everypony must deal with loss at some point or another...
Set after much of season 4, but before Equestria Games and Twilight's Kingdom.
Art by GromekTwist
Chapters (14)