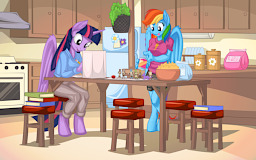 When Twilight Sparkle revealed that she used to play 'Adventures and Alicorns' as a little filly, Rainbow at first found it pretty silly. However, as time went on, Rainbow found herself wanting to spend more and more time around Twilight. That was most certainly not because she was developing feelings for her though. Absolutely not. It was entirely platonic.
Regardless, with the intention of spending more time around her purple friend, Rainbow Dash agrees to give this 'role playing' game a shot. Not once did she think that she might actually enjoy it. However, things aren't always the way they seem, and Rainbow quickly finds herself sucked into the game. Literally.
---
First off, yes. This is an anthro fic.
Second, this story is an effort on my part to gauge my strengths and weaknesses in writing. As such, it will not be sent to my pre reader or my editor. That's right, the only eyes to work on this story are my own. Seeing as this is an exercise to improve my writing, I encourage you to point out flaws and problems with the story. The more that are found and handled, the more I will learn and the better my writing will become.
Thanks for reading!
---
Cover art was commissioned by me from MysticAlpha.
Chapters (6)