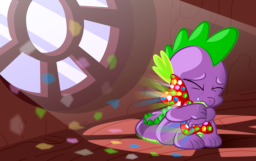 Note: Set before 'Dragon Quest'
Who am I?
Spike asks this question to himself everyday, knowing nothing about his past, or dragon heritage. He wants to meet his father, his brothers and sisters... his mother. These ponies just aren't enough... He finds himself torn between the ponies he grew up with... and the dragon family he left behind.
So when he announces his leave to Twilight, only one thing can make him stay...
Cover Art by the ever talented blackgryph0n.
Note: Rated Teen just to stay on the safe side.
Chapters (1)