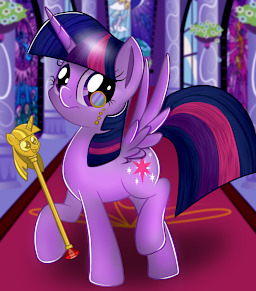 Why is Twilight Sparkle best pony?
To answer that is like answering why the sky is blue? Something about wavelengths, I think.
Twilight Sparkle was born an alicorn. And not just an alicorn, but an alicorn princess. And not just an alicorn princess, but the most powerful alicorn princess that ever existed, will exist, and could conceivably exist. So naturally, Twilight bums off Princess Celestia.
But one day, Twilight discovers a prophesy that changes everything. But not really, because Twilight is eternal. But she finds this prophesy right, about Nightmare Moon. So she goes to Ponyville.
And that is where our story begins. Actually a little before that, because the introduction is Twilight finding the prophesy about Nightmare Moon. So she was in the garden and she found it, right, the prophesy.
Good lord are you still reading the description? Just read the darn story if you wanna, or piss off.
Chapters (11)