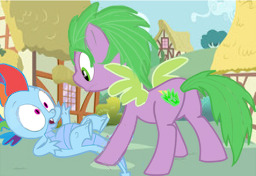 Spike's been feeling down lately, he feels anxious, bored, and confined. Something's bugging him, but he doesn't know what. So when Rainbow Dash tells him that Twilight has a spell to change his form, he figures that turning into a unicorn would impress Rarity, as well as get his mind off of things.
Shenanigans ensue, and Twilight relents. However, instead of doing what they asked, she genies them. Turning Spike into a mare, and Rainbow Dash into a male dragon.
Now they must survive the week like this.
Written for Greenpony32's body swap contest
And as a side story, come with me, and watch as I grow as a writer with every comment, and every chapter!
Cover art created by me.
by the maker's holy plotpoint... This story got FEATURED!! 6/18/14 *Fangirl scream*
Chapters (8)