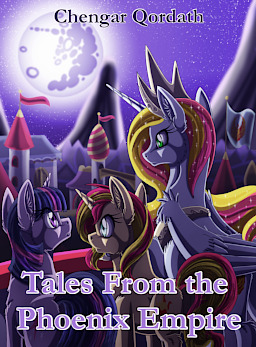 Source
This story is a sequel to Rise of the Phoenix Empress
---
It has been nearly nine hundred years since Sunbeam Sparkle claimed the throne of Equestria after Celestia's abdication. In that time, she has forged Equestria into a powerful centralized empire that spans most of the known world. Even the distant griffons and zebras pay reluctant homage to the Phoenix Empress.
In this series of connected one-shots, we'll be taking a look at life the new Equestria Sunbeam Sparkle has forged, through the eyes of its inhabitants.
Study Buddies: Sunset Shimmer and Twilight Sparkle are the Empress' co-students. They also rather dislike each other, mostly due to Sunset's less than friendly attitude. Can they find a way to work together to fulfill the Empress' high expectations, or will they just end up trying to kill each other?
Chapters (22)