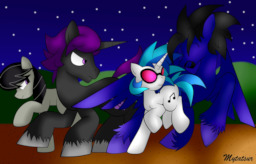 The planet Cybertron is dying thanks to the war instigated by the war lord Megatron and his dreaded Decepticon army. Running low on Energon, Megatron orders his loyal subject Shockwave to locate a world that is ripe for them to pillage the Energon. Shockwave then finds the prefect world thanks to his creation the space bridge, he and another loyal Decepticon Soundwave go to the planet to harness the Energon for the Decepticon cause. Equestria is now in line for a hostile takeover by Megatron.... or is it?
Co-Author: Ryuku the Creative
Cover art done by my good friend Ryuku the Creative
Note: this story takes place in a alternate version of High moons studios Fall of Cybertron. This also takes place post of season 3 of MLP.
Chapters (14)