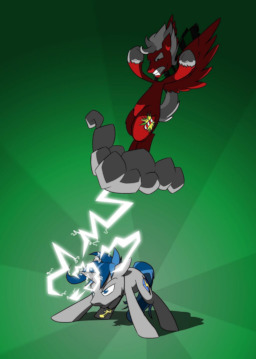 Source
Edgewood is a quaint farming community lying beyond the Appaloosan Mountains and the Forest of Leota. As such, it is but a short way from the changeling domains. The boldest residents banded together and formed a town militia, members of which are granted the title warden. Sparkhorn, a young unicorn artificer, has long desired to join their ranks. His best friend is a carefree pegasus stallion and town weather manager, Skyrocket. While both are longing for a bit of adventure, each has a much more personal goal. But much as life in Equestria shimmers, trouble always seems to brew. With a new visitor in town and a threat looming over Canterlot, the two young adventures may very well get their wish...
The story begins shortly before the events of "A Canterlot Wedding" and continues past the coronation of Princess Twilight Sparkle. Hang on to your hats, folks, we're going on an adventure!
New awesome cover art courtesy of AskFirestarterSpitfire!
Chapters (4)