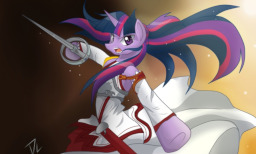 Twilight and company are getting a new game: Blade Shield Online. Created by Assateague, the game is on the cutting edge of full-dive virtual reality. What everypony doesn't know, can't hurt them, right?
--------------------------------
Big thanks to Twidashforever for editing and prereading!
--------------------------------
This IS a crossover between the anime Sword Art Online, and MLP. This is also my first multi-chapter fic, so if there are any recommendations with pacing, themes of either show, etc, feel free to mention them. Also, the first chapter takes place in canon Equestria. Only when they get in-game do they become anthro. The style of anthro can be found here.
Chapters (2)