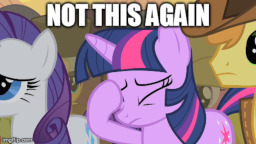 Source
The words here are suppose to interest you into wanting to read the story. I'm not going to type anything like that; I'm only paid to narrate this human in Equestria story (fifty bucks a story ain't worth it) so anything I say in bolded quotes will become the story. I've been doing this for years and these stories are starting to become a bit of a bore to me. If something new doesn't come around, I might just change one of the stories up.
This story is just that, a story. This is a Human in Equestria story that is being told to you by the narrator; who can be identified by italic paragraphs and just as he stated above, anything in bolded italics quotes will be part of the story. Everything else that isn't an italics paragraph is the story progressing normally. Think of it like 'The Many Adventures of Winnie the Pooh' but with an irritated narrator that wants to throw problems for the characters instead.
Made for the 'Body Swap Writing Contest' so you can guess what it entails.
Chapters (1)