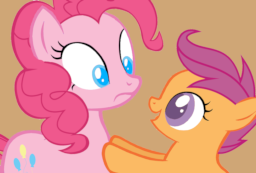 Source
(Story originally written by Matt11, transferred and rewritten with permission. Takes place in an Alternative Universe post "Pinkie Apple Pie". Proofread and edited by deadpansnarker.)
Despite hitting a dead end with her possible ties to the Apple family, Pinkie Pie decides to do some additional genealogy research to learn more about her family history. And when she does, she is shocked to discover she has a fourth sister!
And not just any fourth sister, a fourth sister who's a pegasus, and lives in Ponyville! Meaning it's none other than Scootaloo!
But nagging questions soon present themselves to Pinkie Pie: Why did her parents keep this information hidden? Why was Scootaloo was abandoned at the orphanage? And most importantly, does Scootaloo know of her secret Pie family heritage?
The answers may just surprise Pinkie, who is determined to make things right and be the best big sister she can be for Scootaloo! Perhaps even give the filly a proper home?
Chapters (8)