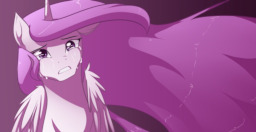 Twilight had always been unstable. She watched her friends grow old and pass on. She felt trapped. She never wanted this.
The royal guards found the purple alicorn's body lying broken in front of the memorial for her friends.
Celestia is left to wonder why. Why did this happen? Her faithful student, her best friend gone. She is left to wonder what could have happened.
How do you save a life?
Chapters (1)