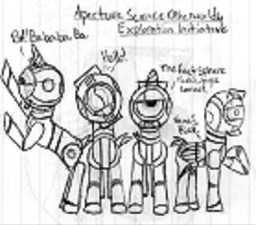 Wheatley, Rick, The Space Core, and The Fact Core are offered by GLaDOS to be returned home, if the defectives can manage to make contact with alien life on the planet they are on a collision course with. Of course, things can only go right. After all, Wheatley is in charge of the mission. And it's only natural for chunks of talking metal to fall from the sky in Equestria. At least they've got each other. If that can be considered good... well, that's debatable.
Thanks to BronyGamer for editing.
Terrible art by your's truly.
Chapters (12)