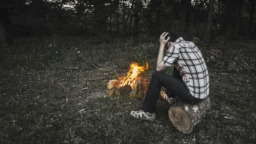 Neil was a High school student with a natural passion in stone age history, namely that of cavemen and their escapades. Despite his interest in early man's history, Neil lived an unexceptional life. He spent his days in personal research, or hanging out with his best and only friend, Trisha. He was a single child with no practical modern interests, or even the ambition to find one. Neil lived this way contentedly, for the most part, until a girl named Helen arrived in town and enrolled in his school. Now, he's stranded in the middle of a hostile forest, with only his school gear and knowledge of the stone age to survive. But, he soon realizes there are worse things than lions, tigers, and bears to battle in these strange woodlands: sinister vegetation, mythological beasts, broods of ravenous insects of unnatural size, and an unusually sapient locality of equines that don't consider his presence a blessing. Neil has to overcome these obstacles, or perish trying.
---
Rated Teen for survival situations, violence, mild gore, and language.
This story was inspired by all my favorite survival books and movies.
The cover image was created by Tré (Tregallery.com).
Chapters (13)