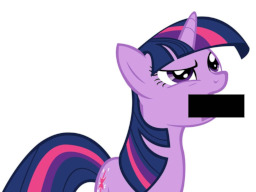 On her six month anniversary of becoming a princess, Celestia decides to send Twilight a book as a present. Being her curious self, Twilight opens the book and reads it almost immediately after receiving it. But not long after starting the first chapter, she discovers a word she hasn't seen before. The only problem is that this particular word isn't in the dictionary. Every time she says this particular word, a loud bleep is heard and a large black box appears over the pony's mouth. She runs to her friends to solve this mystery, and censorship ensues. She also goes a little insane. Okay, a LOT insane.
Whoa... a thousand views? A hundred likes? That's awesome! Thank you guys so much for all the positive feedback (and the criticism, I appreciate that too!)
Rated teen for language. Even if it is censored.
Chapters (1)