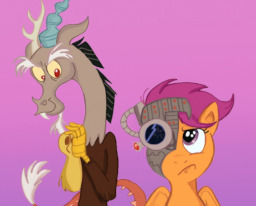 Source
When Scootaloo falls off her scooter, Discord "rescues" her, turns her into a cyborg and makes her watch bad fanfic. Parody of "Robot Chicken", and also of a lot of bad fanfics. Many other parodies may turn up as well.
Added the Sex tag due to all of the innuendo in "Harpstrings. Lyra Harpstrings", but there's no actual sex in any of these skits.
New cover by Woolly!
Chapters (26)