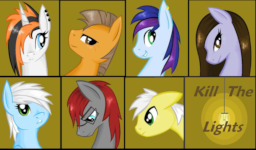 Source
"Sleep is like the drug of our generation--we claim we don't need it, but we always find ourselves entangled in it's hopeless temptation."
When seven ponies wake up in a large mansion, unknowing of their situations and the others themselves, they find that they are involuntarily thrown into a game of endurance, and survival. The rules are simple: Do not fall asleep.
The last one awake gets to walk away, free.
The other six will never wake up.
Just how "overrated" is sleep, anyways?
---
Coverart and character "Sketch" created by Sketch-Pad
Chapters (11)