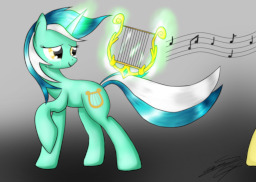 Lyra has never been one to try and take center stage, but when center stage comes for her and her big dream has a shot at becoming reality. She wouldn't dare let it slip away.
Follow Lyra as she journeys through a year of shenanigans, rediscovers herself, the ponies around her, and what it really means to have a voice.
Important Note
Art owned by the amazingly generous SierraEx! Thanks again!
This story is set in the Universe of OWoC and is a continuation of Finding your Voice.
Reading these two stories is not necessary, but HIGHLY recommended in order for certain behaviors and characters to fully make sense.
Disclaimer: I do not own My Little Pony, I write about it.
Chapters (2)