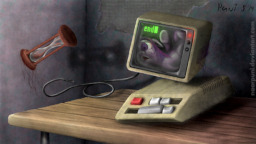 At the end of the world, Princess Twilight Sparkle is hidden away in order to survive. All that she has to keep herself sane is a single old computer-turned-journal, and she has no intention of giving in to madness just yet.
---
Thanks to NaarPuni for the cover art! (DeviantArt Link)
Now has a dramatic reading thanks to ObabScribbler!
---
Now has continuations: Fade and Falter
---
Warnings for apocalypse scenarios and strange grammatical choices.
This was written in about an hour for a myriad of reasons, including a want to actually get some writing done, a personal goal of trying to write a short story in about 1,000 words, and for fun.
This story has received some major edits as of April 22, including beefing up the content of several logs, adding some new logs, and other alterations throughout the story, both plot-wise and grammatical.
Chapters (1)