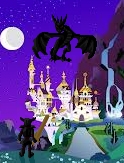 Farengar, a simple nord warrior looking for his next job finds himself facing up against a necromancer to find a tome for his employer, but something happens and he's sent to Equestria by some unknown means, what will he do? Unbeknownst to him he holds a great power bestowed by Akatosh himself to a chosen few within him.
Story has hit the 100,000 word mark!
Completed. Sequel in progress.
Chapters (36)