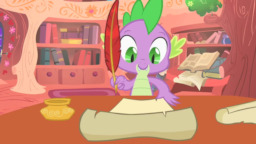 But a lot of ponies seem to think I'm constantly floating on that figurative cloud in the sky. Cloud 9, or whatever. I'm sidekick to the Princess, the Element of Magic herself! Great, right? Wrong.
Nothing happening can be worse, on rare occasion, then something happening. Spike knows how this feels, and takes his feelings to the Elements' journal.
-
Based off of a prompt given to me by Titanium Dragon. "Sometimes, the worst thing that can happen is nothing at all."
Chapters (1)