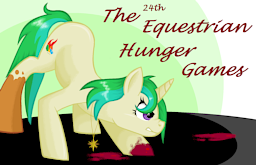 ~Thanks a ton to everyone who submitted their OCs!!! ~
~ Special thanks to ThatPoemGuy for helping me with some little editing stuff here and there ~
Everything was always so simple here in District six. I had an amazing colt friend, a caring mother and two brothers. But every year, one colt and one mare between the ages of 12 and 18 would be reaped for the Equestrian Hunger Games - A sick game that Discord created to make him promise that he would keep the peace as long as the games existed.
Everypony always hopes and prays they are never reaped - who wouldn't right? But on this the thirty-fourth year of the games, I think things are about to change.
Chapters (17)