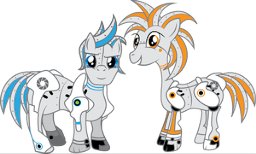 Trixie and Applejack decide to have a friendly rivalry to see who can figure out who's smarter, by playing the Portal 2 Co-Op missions. Pretty soon, things go down from there. No, they don't fight, they-OH JUST READ THE STORY! You'll find out!
Side fic to My Little Portal 2.
Random Note: the ponies in the image are not in the story.
-Radoran
Chapters (1)