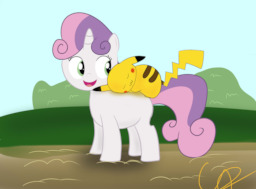 After another failed attempt at Cutie Marks, the CMC are leaving the forest when a sonic boom startles them all.
Scootaloo thinks it's Rainbow Dash and runs off to find her, Apple Bloom following suit.
Sweeite Bell, however, goes into the forest again, where she saw a flash of light. What she finds is an injured creature laying in a crater that doesn't match even Everfree Forest weirdness.
She decides to take the creature to Flutteshy's so it can get better.
This creature however, can't remember what happened or how it got to Equestria. it's memory is vague and it is haunted by nightmares of destruction and the feeling of losing someone important to it.
Set after an alternate ending to Unova's SurvivalCrisis! from Pokemon Black and White: Rival Destinies for Pokemon and before It Ain't Easy Being Breezies for MLP.
Chapters (2)