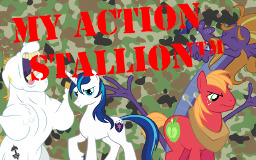 Hasbro starts marketing to an entirely different demographic with this new spin-off TV series and line of toys...
Ask parents before using their credit card. Some assembly required.
Written on April Fool's Day, as a parody of the series if it were geared more specifically toward young boys.
Author's Note: Takes place in a universe where the four pictured characters all know each other and are the stars, and everypony else are the background characters, even the Mane 6. Consider these guys the Mane 4 for purposes of this story. I might be mistaken but I think that in canon none of them have ever met. Enjoy!
Chapters (1)