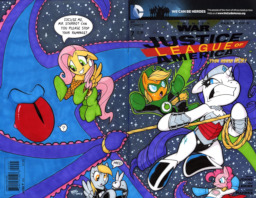 Source
The Elements of Harmony. The faces of inspiration that keep Equestria safe. It always helps morale for the public to know the ones that protect them... or so they think.
The Elements are not the only team keeping Equestria safe. They are merely the one that all of the kingdom knows. There are others, each made up of members just as varied, normal, and yet all are still protectors. Outside of the public eye, they are free to keep the kingdom safe from threats only a few would even know about. Each and every one of them is just as much a hero to ponies as the Elements are.
Of course, this means they are subject to the same fears. A wise man once said: "Who guards the guardians?"
Perhaps it is time they found an answer.
---
A collaboration between Rhino, RLYoshi, and myself, told in the style of two simultaneous comic series. Thanks for all the help, guys!

Story image temporary and by paradox-a-go-go (fun name to say!). Oh, and we're not jumping straight into the title arc. Trust me, you understand why when we get there.

Chapters (26)