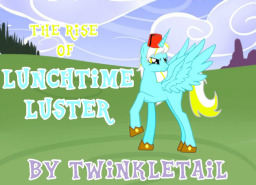 Celestia raises the sun. Luna raises the moon. Twilight...I dunno. Her name is Twilight. She probably does something with that time
"But who controls the early afternoon?" asked no one. And that was exactly what had Princess Lunchtime Luster so mad. Today, she's going to make sure ponies know her name, no matter what it takes.
Thanks to the Intelligent Shipping Discussion Skype group for this, especially xjuggernaughtx for the name.
Chapters (3)