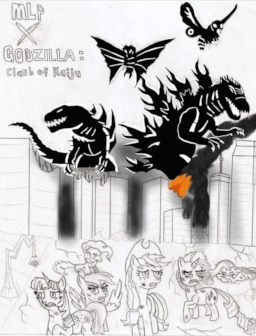 Twilight, attempting to find out more about the magic mirror to the human world, casts a spell that was supported to allow her to view other worlds, but instead rips universal chunks out of another dimension and causes them to manifest in Equestria, bringing legendary giant monsters, or daikaiju with them, including one King of the Monsters and his pretender. Now the living force of nature Godzilla marches across Equestrian soil, untouchable and unstoppable. Spears, magic, weather, even the Royal Princesses themselves are but annoying bugs to the atomic titan. And all the while, other monsters rise up against both Godzilla and Equestria - with pony-kind trapped in the middle.
My little ponies, this may be the end of Equestria as we know it!
Special thanks to Johng117 for making this cover.
Rated T for Gore in later chapters
Chapters (1)