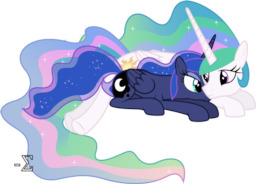 Source
Celestia has always watched over her little sister. When she has to banish her sister to the moon, she works to right some wrongs in Equestria so that her sister will be happier upon return.
However, the biggest change Celestia made has gone completely unnoticed by Luna since her return. Celestia calls Luna into her study to bring Luna's attention to one of the biggest changes of Luna's life.
(Note: romance tag NOT for princest.)
EDIT 3/26/14: In the popular stories box! Thank you all very much! This is my first really popular story, and I couldn't be more grateful for all the positive feedback!
EDIT 3/26/14 (again): Featured! Oh my GOD. This is just too awesome. I'm going to have a celebratory bowl of Lucky Charms and wonder how I came to earn the support of you lovely people.
Chapters (1)