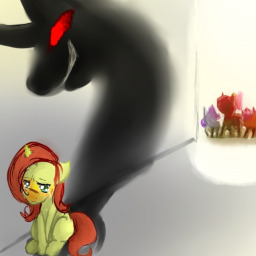 A shy, very lonely young filly named Honeysuckle moves to Ponyville. She's never had a friend in her life, and the Cutie Mark Crusaders hope to change that...but isn't there a reason she's never had friends? Honeysuckle has a terrible secret that she hopes to keep hidden from everypony for their own safety; a dark and terrible secret, a curse that follows her, protects her, and refuses to allow anyone near her. Will the CMC be unable to help her overcome her curse, or is friendship alone strong enough to exceed even the worst hardships?
Warning: This story is very, very sad; if you feel no emotions after reading this, you may not have a soul.
One-Shot re-edited and reposted under my new account.
Chapters (1)